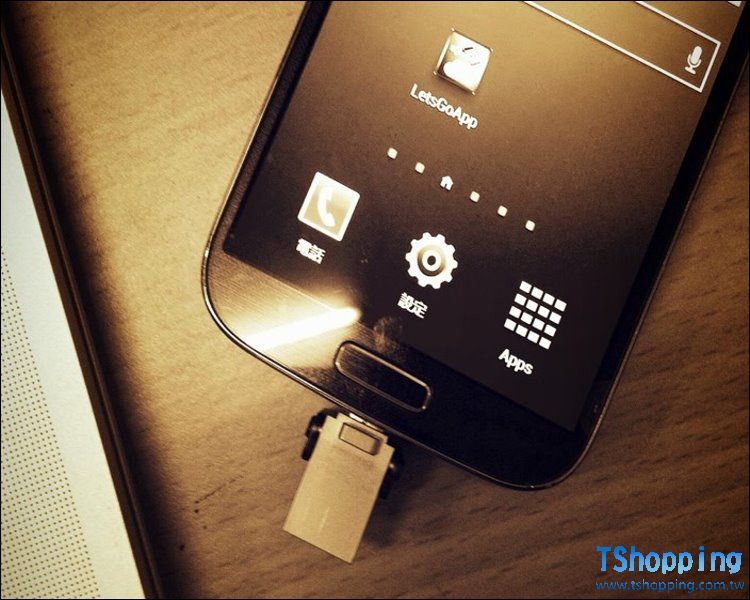 Description:

App 2 SD or OTG

After replace Android device, the Apps can still be run at MicroSD or OTG by LetsGoApp.

LetsGoApp is a App, which is a kind of solution for storage shortage and backup data.

Apps can be run by LetsGoApp within the MicroSD or OTG on the most of Android devices .

Support Android 4.1.X~4.3

HTC bufferfly、SONY Z 、ZL、MI3X、IAOMI – Redmi、 Sumsung S4、Note2

Support Android 4.4 , and it need fixed SD card write/read permissive


[youtube]WMCV_3yt_zM[/youtube]

Contents.
(1)Foreword.(2)What should I prepare?

Step 1:Creating & Formatting the storage device – MicroSD and OTG.

Step 2:Rooting Android Device.

Step 3:Installing the Applications – BusyBox、USB OTG Helper and Link2SD.

(3)Operating Instruction for LetsGoApp.

Step 1:About User Interface.

Step 2:How to use LetsGoApp with the storage device – MicroSD and OTG?

(4)To Unlink the App's link from storage device.(5)About LetsGoApp.(6)Q & A.

---
(1)Foreword.
LetsGoApp can execute all the other Apps on OTG and MicroSD(not install). Therefore, it can effectively solve the problem of the shortage of ROM of the portable device and to easy backup your Apps.
The LetsGoApp is an application aimed at solving the shortage of ROM's applications for portable device. It often happens when a portable storage device has been installed a large number of applications in it.
Because the manufacturer's limit, Android's users frequently may meet the following problem:The ROM is not enough! There are 3 ways to fix this issue :
First, pay extra money to buy a better Smart Phone for more ROM.
Second, remove unwanted data or Apps to release more space.
Third, synchronize data with the computer .
There is a better way , LetsGoApp has solution of ROM at portable devices.
NOTE:According to user choices, there are different Third-Party Apps for mounting the OTG and MicroSD.
The User Guide will be elaborated.
---
(2)What should I prepare?
Preparing a MicroSD or OTG device, you must to create 2 partitions(1st-FAT32、2nd-EXT3) and formating it by EaseUS Partition Master. The partition steps for both MicroSD and OTG are the same.
Step 1:Creating & Formatting patition.
(A). Installing EaseUS Partition Master for Windows.
(B). Right-click on the OTG, and choose "Create partition".
(C). Setting size 3 ~ 5 GB or more for FAT32 as 1st-partition, and Create as "Primary".
(D). Setting EXT3 partition for over space, and Create as "Primary".
(E). Right-click on the EXT3 and choose "Set active" ,then "Apply" it.
(F). Removing the OTG device after the work is finished.
Step 2:Rooting Android.
Each portable device has different ways to Rooting Android device. Please google, and then rooting your portable device.
Step 3:Installing the Applications – BusyBox、USB OTG Helper and Link2SD.
First of all, you have to installing BusyBox for Android by "Play Store". User can choose USB OTG Helper or Link2SD to mount the OTG or MicroSD. We recommend to installed both.
(A)BusyBox:
Touching "Install" , then "Smart Install".
(B)USB OTG Helper (If you use OTG)
(C)Link2SD (If you use MicroSD)
Selecting the sector format-EXT3 of your MicroSD's second partition, then Reboot device.
---
(3)Operating Instructions for LetsGoApp.
Step 1:About User Interface.
There are four UI controls :Switching the storage device of target by 1.Main&2.Vice-Spinner. Showing 3.Menu by menu button. Finally, all of the above steps results will be presented on the 4.App list.
Step 2:How to use LetsGoApp with the storage device – MicroSD or OTG?
(The operating steps for both MicroSD and OTG are the same, this example is for OTG.)
(A)Touching the option "Phone ROM" of Vice-Spinner to show the App's menu list, and you can choose the target to moving .(For example:Candy Crush Saga)
(D)Touch the button "Cancel" to retune to step(A), to move the other Apps if you have needs. After all of the moving work is finished, and then touching the option "Quick Reboot" to rebooting by Menu button.
(E)After rebooting, (Fig.1、2) the application "Candy Crush Sage" can be run by LetsGoApp and Android Desktop. Conversely, (Fig.3) when the OTG device is not mounted, there is only unlinked icon to show within Android Application Manager.
---
(4)To Unlink the App's link from MicroSD or
OTG.
(A)Pressing Menu button to show the menu list, and then release link from storage device.
(B)Pressing the option "OK" will unlink for APK.
---
(5)About LetsGoApp.
Version:4.020814
Update date:02. August. 2014
Release date:01. July. 2014
Content Rating:All
Support Android V 4.1.x ~V 4.3 with:SAMSUNG – S4 / Note 2、HTC – Butterfly、
SONY – Z / ZL、XIAOMI – Redmi / Mi 3
---
(6)Q & A.
Q:What the Android's version has supported, and portable device brand can be supported by LetsGoApp?
A:For now, LetsGoApp stable supported for Android v4.1.x ~ 4.3, and continuing to support for all class.
Q:What is internal ROM and portable storage device?
A:The ROM is an storage capacity within portable device, that has limited by Manufacturer's specifications. The portable storage device is MicroSD and USB On-The-Go.
Q:Before run LetsGoApp, should I have to install the Third-Party application first?
A:Exactly, and must to downloading USB OTG Helper from LetsGoApp official web.
Q:How to Rooting for portable device?
A:Please go website and google to see how to rooting your own portable device.
HTC's device need S-OFF. Samsung S4 use OTG for Android 4.3↑, You need close KNOX .
Q:About MicroSD and OTG's specifications, whether there is limited?
A:User can choose capacity and brand, but recommendation for the brand withMicroSD is SanDisk.
Q:The OTG's temperature is always high. Is this is correct?
A:Yes. It's useable.
Q:No the other methods to solve?
A:Actually, there is suggestion for this problem. You can use SanDisk's MicroSD for storage device.
Q:How to solve of USB OTG Helper to mounting with only one drive?
A:You can check busyBox install has completed. The other way, you can press "mount" twice or let the portable device reboot, and try again.
Q:Can I hold the portable storage device use for mobile phone for more than one?
A:Yes. This is the concept of LetsGoApp.
Q:How can I plan the space of partitions?Can I still storing private data into the partition FAT32?
A:YES. For example:Photos、Videos、or be Storage Disk to use for PC, and then storing for all of your private data. As for partition-EXT3, it is to store for applications. Anyway, space size with personal preferences.
Q:Can I still update within portable device from Google Play Store?
A:Yes. But the portable storage need has been mount.
Q:Reading a lot of above for user guide, I confused still. What is the point of LetsGoApp?
A:In fact, every day we have to face a lot of data. These including photos、videos、music and the increasingly entertainment features of Apps. What the better solve method is a important problem, wherein is LetGoApp lets you develop a personalized storage device, and then run with it, that just like as a portable Cloud.
Q:About "LetsGoApp", it is look like as Link2SD.
A:Yes, but not almost for all. For example with MicroSD:The program only run App by Link2SD from the single portable device. If there are more than one with mobile phone, that is not allowed to share of the applications with each other. But now, LetsGoApp was already to solve this problem.
---
Updated Info:
Download
LetsGoApp APK v4.020814
Firedrive:
https://www.firedrive.com/file/34E01D2277BEFE2
Baidu:

USB OTG Helper APK

Manual