http://www.ronyasoft.com/products/poster-forge/

Poster Forge is an easy-to-use poster generator. A motivationalposter, a movie poster as well as a Old West "Wanted" poster can becreated with its help in practically no time and totally for free! Youcan save your new posters and publish them on the Internet (myspace,livejournals, flickr, etc.). You can use a special built-in tool toprint big-size posters and hang them on the wall.


Download Poster Forge now! (2,7 Mb)

Poster Forge doesn't require any knowledge of graphics or designand enables users to create posters in clicks. This software has astep-by-step wizard for each type of posters. You can customize eachdetail in a template the way you like it. For example, making amotivational poster, you can insert an inspirational image and text anduse it as a daily motivator. Or, creating an old western "Wanted"poster, you can specify the criminal's name and the reward – anexcellent idea for a funny joke on your friend who you haven't seen forages or a colleague who is always late for business meetings.
Poster Forge has great advantages over online postergenerators: it offers several poster templates all together and doesn'trequire an Internet connection. Impress your family, friends or officemates with your fresh, cool ideas – make your own brilliant posters!


http://www.ronyasoft.com/products/proposter/index.html

what is proposter?ProPoster is software for big banner printing, sign printing, posterprinting, mural printing, wall photo printing. ProPoster does notrequire special plotters, it simply prints on standard printers. Anypicture, digital photo, Microsoft Word document, Excel spreadsheet canbe used as a source for the multipage poster. Also, it is possible toprint a poster from a scanner.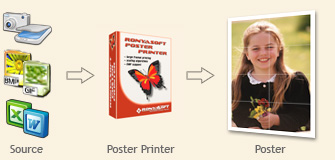 Download ProPoster now! (1,4 Mb)

You can use some powerful graphic program for poster printing,if you have special knowledge and skills. But ProPoster is convenient,simple and intuitive poster software that will free you fromunnecessary work. Simply select an image and the software willautomatically divide it into the necessary number of pages. To create aposter, you will also need glue, scissors and a bit of skill.
Make a great poster yourself! It should not necessarily beyour favorite picture or digital photo, advertising banner or anytables and graphics. Just use your imagination. Let it be somethingunique, maybe even the result of your creativity. Show your own posterto your friends, they will be amazed for sure