本帖最後由 david0zan 於 2014-12-20 01:49 編輯
「LetsGoApp」A good helper to easy share and backup the Apps to your friends. (Crossing Play Store Account For Use )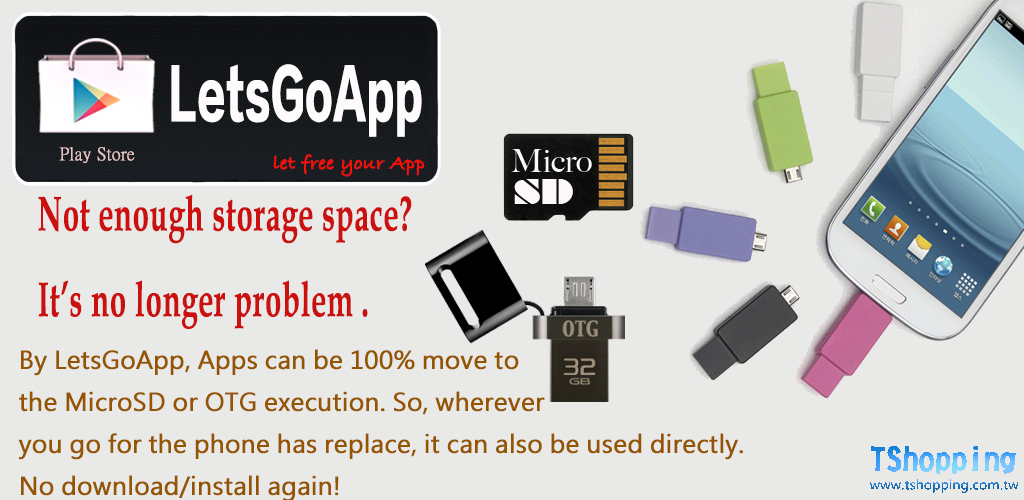 ▇ ABOUT ▇

Name:LetsGoApp
Language:English、Chinese
Price:Free
Android Support: Android 4.1 above
Download: Google Play Store
Pre-prepared:
1. Need ROOT & Installing BusyBOX.
2. Preparing a MicroSD or USB OTG storage.
3. Formatting 2 Partitions(1st-FAT32、2nd-EXT3 or 4) for MicroSD/OTG by Computer.


Do not know how to get ROOT? iRoot can help you one click to rooting your Android.
iRoot download by http://www.mgyun.com/en/GetVRoot



USER GUIDE:
Step 1. Make sure you're already have LetsGoApp's pre-prepare done (Don't know how to prepare yet? click here to read this article : Android 4.1 above! How to let the APP 100% move to MicroSD or USB OTG device by LetsGoApp?).

First of all, you can saw there are not any the other Apps on my Android's desktop, that all both by system built-in.






Step 2. Because this MicroSD is belong my friend, he was also to move Apps to the MicroSD by LetsGoApp. I wanna his Apps can to executing on my phone, so by now, running the LetsGoApp to move the Apps from his MicroSD to my phone.
there are three paid Apps : "OfficeSuite Pro"、"GoodReader Pro"、"PhotoShop"。





Step 3. Clicking OfficeSuite Pro, there is a remind window will be show , Click sequentially "Install" --->"ROM" --->"Cancel". Because there are two Apps not yet install, that is reason why I click "cancel" to waiting for all install order done. This will more time-saving and convenient !





Step 4. After cancel, repeat above step to click "GoodReader Pro" & "PhotoShop" , only one different point is : when I completed the PhotoShop's install, I'm going to click UI quick restart.






Final Step. After UI resetting finish, give back the MicroSD to my friend, and now his Apps is I belong !






That's simple for sharing Apps ! Doesn't it ?